Multi-Channel Marketing Is THE Key to Maximizing Your Marketing ROI!
Online marketing (Display Ads, Facebook, PPC) and offline marketing (direct mail, D2D, Events) are intertwined. Fortunately, pixels can tie the strategies together to maximize your ROI and best attribute leads to the correct chanel and campaign spend.
This summarizes the types of pixels and how we can use them on your campaigns. Call us for more detailed discussions about your specific marketing challenges.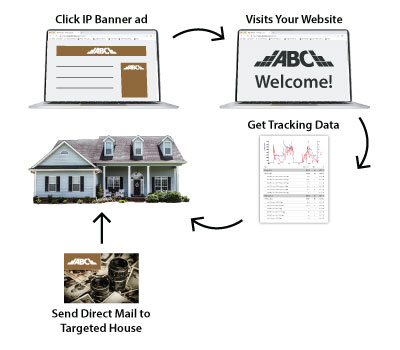 IP Address to USPS Mailing Address Pixels
Proprietary technology allows for linking the IP address of the modem in the home to a physical mailing address. This is not cookie-based. It can be used to go from IP Address to Mailing Address—or from Mailing Address to IP Address. They key is that the two can be tied together. If your services provider cannot tell you if they have served a display ad to an address, they are using cookies.
We use IP to Address Pixels in two ways:
Check out

Address Match™

if you would like a pixel placed on your website to capture the mailing addresses of ANONYMOUS website visitors.
Check out IP Match™ - Digital Display Ads if you would like to IP addresses matched to addresses so that we can serve online display ads TO THOSE SAME ADDRESSES
Facebook pixels can be used for a number of purposes. If you are running Facebook Sponsored Ad Campaigns, Facebook pixels are important for re-targeting ads to your site visitors via their Facebook feed or elsewhere. Very inexpensive but very effective.
These pixels allow you to identify those that have seen your online display ads but did not click on them. Often a prospect will see your display ad and then conduct an organic search to learn more about you. The display ad created the interest. With the View Through Pixel, you have a much greater ability to attribute the leads to your IP Match™ - Digital Display Ads vs Organic Search or otherwise.